Keeping it Classic - Amy, Ryan & the kids
What sort of bride are you? It's probably the biggest question to consider after 'will you marry me' and for classic bride, Amy, planning her perfect wedding to Ryan was easy once she figured that out.
"I am more of a structured and tailored person, so 'boho' need not apply! This is really where all the other ideas grew from and I think that's a good place to start. Find the dress you have to have and make everything else work with that!" advises Amy.
As well as sharing her beautiful wedding images, Amy has shared her thoughts here on how her perfect wedding (and relationship) unfolded and it's a great read for any future bride wanting some insight into what makes a good wedding great. Links to all her amazing vendors are listed at the end of the blog.
HOW WE MET, OVERCAME OBSTACLES & FELL IN LOVE:
Ironically when we met, I was actually going to Ryan's work for a meeting with his (attractive) salesperson! Ryan was there too and much easier to talk to! Ryan had two young kids already, so we actually had quite serious conversations about what we wanted, before anything had happened. I always wanted kids of my own, and if he was done at two, then he wasn't going to be the one for me. We were on the same page, and things progressed from there. Ryan is a great father, and that was a really special quality to me. My step-dad has been in my life since I was five, and I call him Dad too. I've seen how great these relationships can be, so I wasn't put off by the challenges ahead.
SOME OF THE COOLEST MOMENTS & UNEXPECTED SURPRISES
We went with a 'First Look' (photos before the ceremony) and I really loved having that intimate moment before the rest of the day played out. It also gave us time to mix and mingle with our guests. People always say the time goes really fast. It does!!! SOOOO FAST!
We had our three children with us, Addison being only 17 months old. She's a toddler, unpredictable, so you have to work with her wanting to move around and be held. It was great to be able to capture some of these candid moments in our photography…..the real value in having two photographers! Nothing was too surprising, as I had planned it all, but Ollie (the eldest) ripping his pants was unexpected. We were very fortunate a guest's family member was able to collect them, repair them and have them back within an hour! Ironically, one of our favourite family photos is of us on the grass, Ollie behind us, you'd never know he is rocking some black sports shorts and no shoes at that moment! Oh, and surprisingly it does transpire that cutting a 'cheese' cake is harder than it looks!
A DESTINATION WEDDING AND FINDING THE PERFECT VENUE
Hawke's Bay has lots of beautiful vineyards and venues and a stable climate. We thought about a destination wedding, and Hawke's Bay was a reasonable drive for most people who were coming….all bar two friends who moved to the Bay during our planning period had to travel. We wanted a venue where everything was on site…wet weather option? Sorted. Ceremony and reception in one spot, no moving partway through the day? Sorted. When we reconsidered our wedding date (after the first fluff up with a double booking elsewhere) Church Road Winery was perfect as they only do on-site ceremonies until the end of February. I think it is more enjoyable for guests, and easier for all, when everything is in one location. I highly recommend finding a venue that offers this. Church Road Winery was an ideal mix of warmth and character and the more industrial elements of the Cuve Room were ideal to make it more formal and edgy than, say, a lovely ceremony on a lawn. I don't like doing what is predictable or expected so worked to create things that guests wouldn't think "I've seen that 10 times before."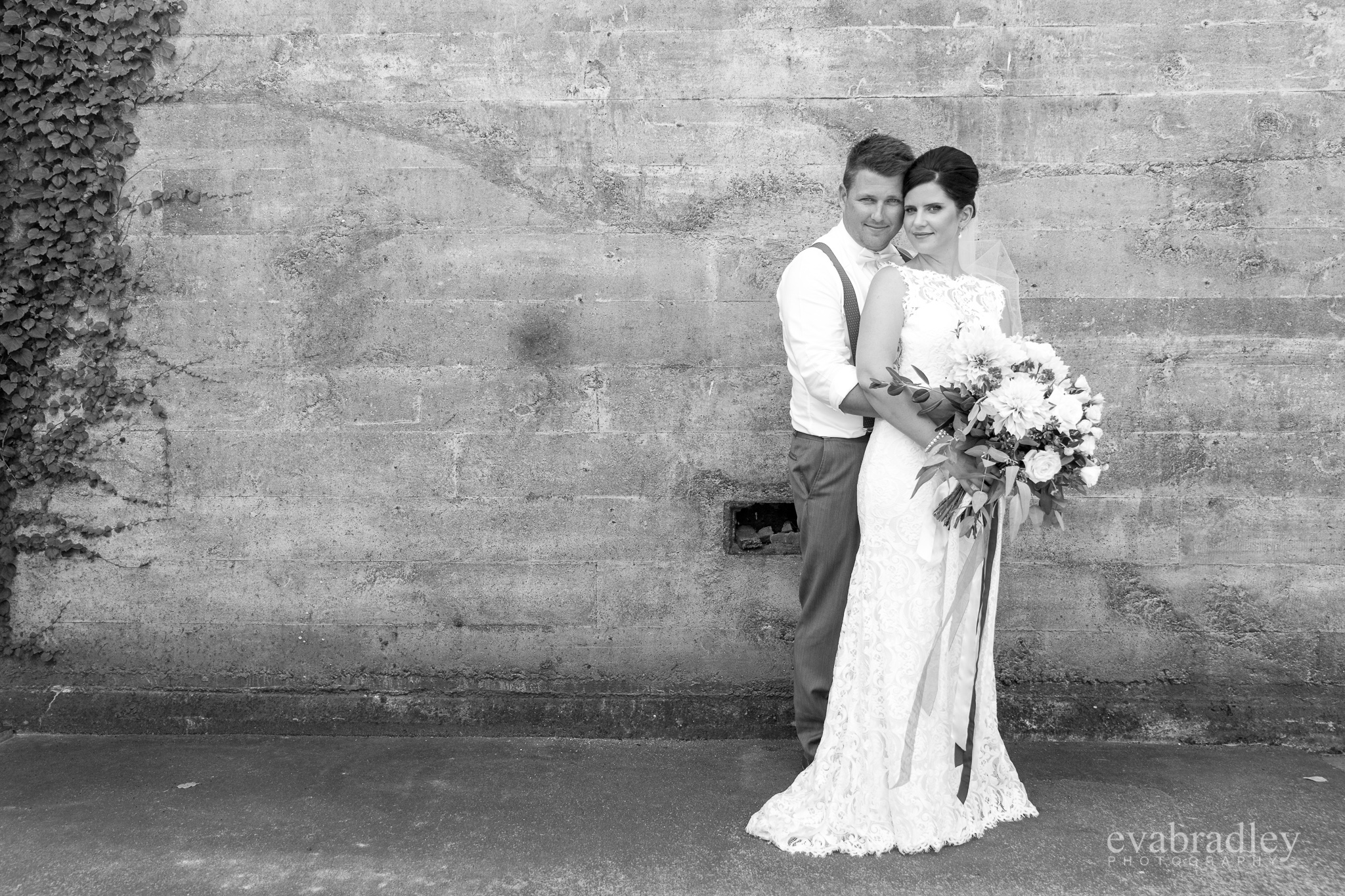 GO PRO...
I highly recommend everyone we worked with. Hawke's Bay is a wedding destination, which means the vendors do their jobs full time, they are professionals and you gain from their experience. Eva and Andrew were one of our biggest investments in our day, but their quality work is the only tangible thing that remains. I value every dollar we put towards photography. The photos are incredible, the speed in delivering the goods after the wedding is totally unbeatable! [awww shucks, now we're blushing-EB xx]
CUTE LITTLE BACKSTORY...
Ryan designed and had my ring made locally by Cameron Jewellery in Palmerston North and my good friend Sandra was in on it, as she worked there. He had the ring from February until New Year's Eve. Things kept getting in the way – poor Sandra kept expecting an announcement as various 'milestones' passed. My tummy kept getting bigger, and he did wonder if the ring would fit my fingers being so heavily pregnant! Then he didn't want to mix the excitement of the engagement with our daughter being born, so just kept waiting. I like to joke that I obviously took longer to pass my trial period!
LOOKING BACK I'D SAY...
Planning a wedding will take up SOO MUCH of your time, and that is a really amazing experience. But once it is over, it's all about your lives together….so don't sweat the small stuff! I bet our guests didn't notice half of the little details I worked on painstakingly. Make sure you LOVE your dress, don't skimp on anything that is really important to you, plan your day your way – it's not about anyone else. Have your best friends there beside you, and enjoy it!